Behavioural Ecological Economics
This workshop focuses on the applications of behavioural and experimental economics to ecological economics and represents one of the first attempts to merge these fields. Ecological economics embraces a trans-disciplinary approach that studies economic processes as embedded in broader social and ecological systems. This integrated approach attempts to look at the embeddedness of humans in their ecological life-support system, not as being separate from the environment. Prosocial motivations can represent an important factor leading to actual behaviour that is pro-environmental. Therefore, studying which behavioural tools are most effective in triggering prosocial motivations can be extremely useful in designing pro-environmental policies, and help raise awareness of topics related to sustainability and ecological economics. The workshop is designed to help foster new collaborations in this emerging field of research.
CALL FOR PAPERS
Ecological Economics invites contributions for a special issue on "Behavioural Ecological Economics"
Guest Editors:

Nives Della Valle (European Commission – Joint Research Centre)
Leonardo Boncinelli (University of Florence – DISEI)
Tiziano Distefano (University of Florence – DISEI)
Tommaso Luzzati (University of Pisa – DEM)
Ann-Kathrin Blankenberg (Bard College Berlin)

The submission period for this special issue begins on 1st October 2023, and the deadline is set for 31st January 2024.
More info HERE on the website and HERE the call in pdf
Materials (to be downloaded):
GUEST SPEAKERS:
Stefan Drews (University of Malaga)
Jantsje Mol (Center for Research in Experimental Economics and political Decision making of the University of Amsterdam)
Patronage:
COSMOPROBE PRIN 2017
European Society for Ecological Economics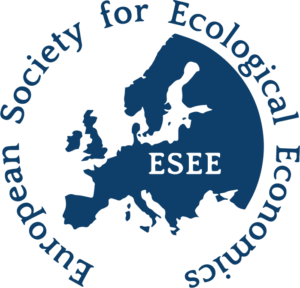 Practical information:
The workshop will take place only in person.
July 2023, Monday 10 and Tuesday 11
Venue: Department of Economics and Management, University of Florence (Italy), Via delle Pandette, 9, 50127 Firenze FI, Building D6
Participation is free of charge for both presenters and listeners.
Meals, snacks, and drinks will be provided free of charge during the workshop ONLY for presenters.
Listeners can find several places where to eat cheaply (5-10 €) close to the workshop venue (a few minutes walk away).
Any other expenses will be borne by participants, who are also responsible for their travel and accommodation arrangements.
Presenters will be kindly requested to stay for the entire duration of the workshop and their number will be limited to about 30 persons to enhance debate and interaction.
Both theoretical and empirical contributions are welcome. Topics include (but are not limited to):
smart and sustainable cities
games for sustainability
boosting and/or nudging pro-environmental behaviors
individual and collective ethics
experimental economics
climate change and cognitive bias
ecological rationality and cooperative behaviors
environmental preferences
local energy communities
local sustainable mobility
local energy, food, and water nexus
green policies for behavioral change
degrowth/post-growth practices
The workshop is linked with the summer school "Leveraging Ecological Economics to Advance the Sustainability Transition" which will be held at the University of Pisa in the days immediately after. Hence, we expect students of the summer school to attend the workshop.
SCIENTIFIC ADVISORY BOARD: click here
Dates
Day 1 – Mon 10th, July: morning (10.00-13.00) + afternoon (14.30-18.30);
Day 2 – Tue 11th, July: morning (9.00-13.00).
Important dates:
submission by 16th April, 2023
acceptance by 16th May, 2023
registration by 15th June, 2023
SUBMISSIONS ARE CLOSED
Possible accommodation in Florence
Student Hotel: https://www.cx-place.com/landing-cx-florence.html which is on the medical and engineering campus: https://goo.gl/maps/3nXDincBmFqcS7q26
Hilton Hotel: https://g.page/HiltonGardenInnFlorenceNovoli?share
Possible accommodation in Pisa
Le Benedettine Residence
This accomodation might be a good option for those also participating in the summer school. To commute from Pisa to the workshope venue takse about 90 minute
HOW TO GET TO THE VENUE
From the Central Train Station (Santa Maria Novella): Take the tram line 2 direction 'Peretola Areoporto' and get off at the stop 'San Donato – Università'
From Firenze Rifredi Rail Station (20 minutes walk)
From the Airport – Peretola:  Take the tram line 2 direction 'Unità' and get off at the stop 'San Donato – Università' .
You can buy tram/bus tickets at the authomatic machines at the tram stop (1.50€ ).
From "San Donato – Università" it will take less than 10 minutes to get Building D6
https://goo.gl/maps/cL4rrSzsccoxdpnA7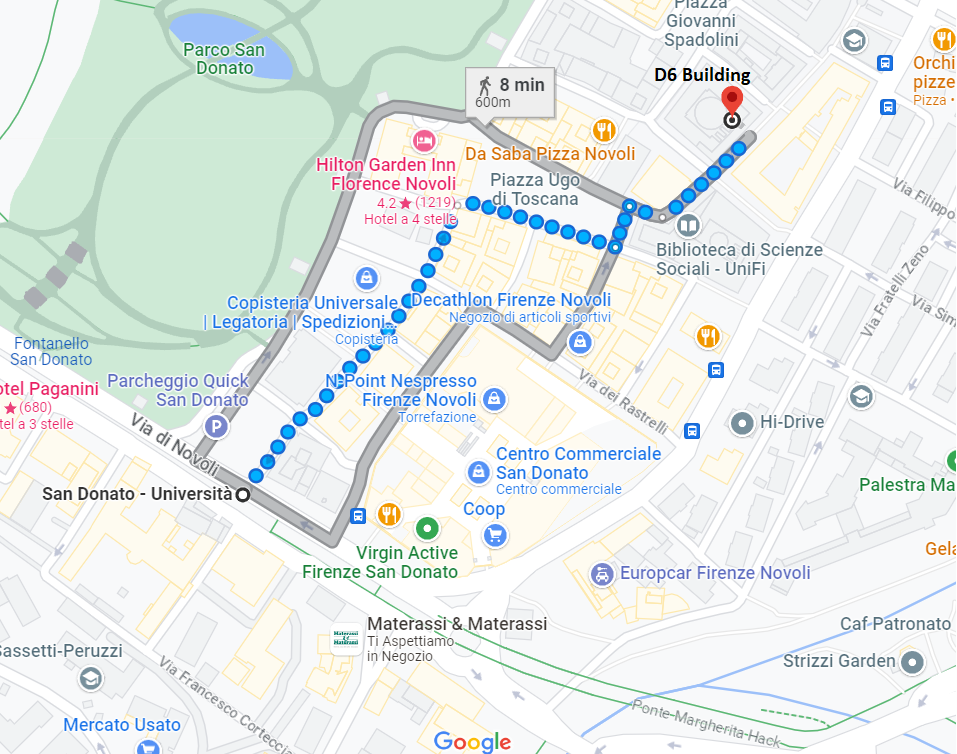 We gratefully acknowledge the help of
Istituto di Ricerca sul Territorio e Ambiente – LEONARDO (Pisa)